This is the time of technology and everybody should adapt itself to it. If you are a dad and your work is related to computer and technology, then most certainly your kids will have an interest in the Laptops and smartphones as well. Many times, kids see their dad working on the laptop and they also want to work on it, press the keyboard swiftly like their dad do and do all sort of things they see their dad doing on it.
Nowadays, schools and educational centers for kids have updated their infrastructure and teaching methodology. Lectures are delivered on multimedia and all course content is available in soft copy so that it can be easily updated and amended. Keeping this in mind your kid might need a laptop too so that he can keep pace with the course material and also make his assignments on time.
See this : Best Android Phones to Buy Before Christmas 2017
Following is the list of some good laptops with limited features and parental control facilities suitable for your kids.
Dell Inspiron 11.6-inch 2-in-1
This laptop is a good option if you want to have a Laptop for your kids. Dell Inspiron 11.6-inch 2-in-1 comes with an Intel Core m3 processor, 4GB RAM, and 500 GB hard drive. This machine has a good 1366 x 768 LED-backlit touch display as well.
This one is a good choice for parents because of some great parental control features which are available in the Windows 10 operating system like Family Web portal where you can block specific sites, you can set a screen timer and also limit the number of software and games download thus creating a full protective environment.
Also, if you are looking for some generic gifts for kids, look here.
Lenovo's Ideapad 100S
Quite an affordable solution for parents to buy for their kids, this laptop comes with interesting features and specifications completely complying the needs of kids. The machine has 1366 x 768 display, 2GB RAM, an Intel Atom processor and 32 GB of eMMC memory.
The laptop weighs only 2.2 pounds and has excellent battery timings of 10 hours. The Window 10 operating system and MS office support features make it an ideal choice for kids to do their homework and school assignments. One other thing worth mentioning is that you can add an extra 64GB of memory with a microSD card.
All internet review : Justice League Reviews & Ratings
Apple's MacBook Air
This Apple product deserves to be on this list of laptops for kids. Apple's MacBook Air has a dual-core Intel i5 processor, 8GB RAM, 128 GB of SSD storage and has a battery life of 12 hours. This long battery timing makes it a good option to go for it. The laptop is lightweight for kids to carry weighing only 2.98 pounds.
This machine has some good parental control features to make parents relaxed and tension-free. You can have a complete website control feature to monitor the websites. The laptop also gives a control and limit on apps download and you can also remove to access to printer and scanner.
Microsoft Surface Pro 4
Microsoft Surface Pro 4 is a convertible laptop machine which can easily be flipped into a tablet having a good friendly design. Major specs of this machine include Intel Core i5 processor, 4GB of RAM, 128 GB hard drive and some good battery timings of 8 hours.
The screen is 12.3-inch PixelSense display make it a good option for playing games with exceptional graphics and Surface Pen option is also compatible with the screen. Some advanced parental control features make it an ideal laptop for kids.
Asus Chromebook C202SA
The Asus Chromebook C202SA is a good laptop for kids because of its exceptionally rugged and durable body to withstand all kinds of shocks a kid can give. A good quality reinforced rubber guard around the laptop protects it from drops of 3.9 feet.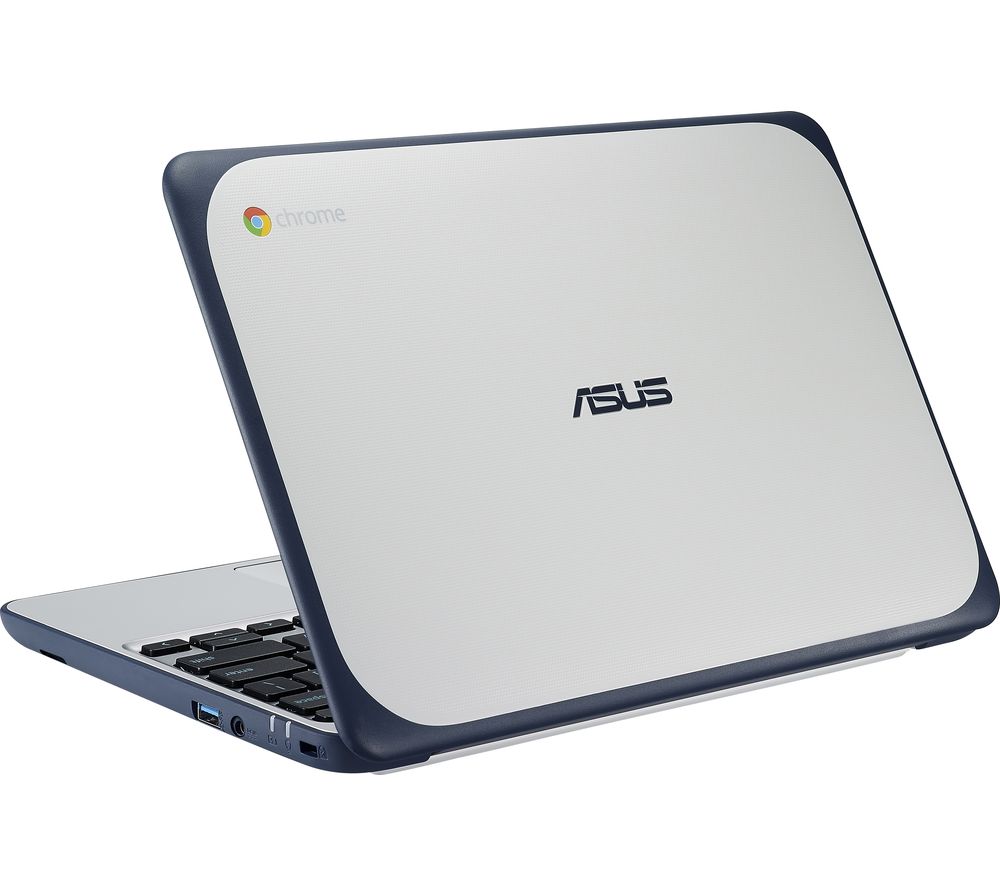 Another cool feature of this machine is the spill-resistant keyboard, that resists any kind of liquid spillage on the keyboard. The machine weighs only 2.65 pounds and has a good battery life of 10 hours. Major specs include Intel Celeron N3060 processor, 16GB of storage, 4GB of RAM and a 1366 x 768 11.6-inch anti-glare display.